Michele's Little Lulu Memorabilia
I have enjoyed reading Little Lulu comics since I was a child. I renewed my interest in the comics in the mid-80's, and have collected both some of the comics and other Little Lulu items as well. Here are some of the things I have collected (Click on the thumbnail to see a larger version of the pictures):
Little Lulu Colorforms
This is a box of Little LuLu Colorforms from Western Publishing Co., 1974. It is like a paper doll with plastic clothes that stick to Lulu. Here is Little Lulu in the different outfits in the box, with some of the accessories.
Go to Top
Little Lulu Party Napkin and Tablecloth
I have a party paper tablecloth and napkin saved from somebody's birthday (I don't remember when we used them, but I saved a few), probably in the late 60's or early 70's. Here's the napkin: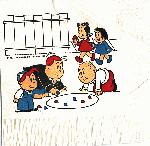 Here is a section from the tablecloth, and then some individual pictures enlarged from that section:
Go to Top
Little Lulu Christmas Tree Ornament
Here is a Christmas tree ornament. My sister bought it for me at a craft show in the late 80's. It appears to be made out of bread dough.
Go to Top
Little Lulu Coin Purse
Here is a little coin purse that my daughter Denise found for me at a yard sale in the early 90's.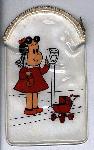 Go to Top
Here are some vinyl Little Lulu squeaky characters that I recently was able to buy: Annie and Little Itch.
Here are three pictures of vinyl characters from Little Lulu comics that were sent to me by Walter in Mexico, a Little Lulu fan (he sent the pictures, not the characters). Aren't they great? Thanks, Walter!!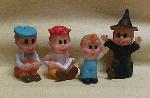 Go to Top
Little Lulu Sweatshirt
Here's a sweatshirt that my sister made me, probably in the early 90's. I collect both Little Lulu and frogs, so she put both on this shirt.
Here is a Milton Bradley game with a 1945 copyright by Marjorie H. Buell.
Go to Top
Here's Little Golden Book # 476 called Little Lulu, adapted by Gina Ingoglia Weiner and illustrated by Woody Kimbrell and Al White. It was first published by Golden Press Western Publishing Company, Racine, Wisconsin in 1962. This book is the second printing in 1974. This is the first Little Lulu book I owned.
For more Little Lulu books, see my page Little Lulu Books.
Here are some pictures that I received from SouperDoll@aol.com of a Little Lulu sleeping bag that she had. This sleeping bag is not for sale, but I thought you might enjoy seeing it. I had not seen one before.
Here is a close-up of one of the pictures on the sleeping bag. This picture of Lulu with the umbrella was on the cover of Little Lulu #200, from June 1971. LL #206 is the last issue with copyright Marjorie Henderson Buell, and the comic is titled Marge's Little Lulu; LL #207, September 1972, is first issue with copyright Western Publishing Inc. On that issue, the title drops Marge's in front of Little Lulu. In addition, with LL #207, the type on the title changes from plain block letters to the placement of the letters exactly as they are in the last photo. It appears this sleeping bag was from the early to mid 1970's. If anyone has more specific information, I'd love to hear from you.
Page last updated 30 Jan 2003.
Email comments to dmmaki@MichelesWorld.net