Little Lulu Dolls
Here is a Little Lulu doll that my sister bought for me at a craft show in the early 1990's.
Here's a Little Lulu doll holding a Little Lulu doll that I bought at a craft show in the early 90's.
This is the new Little Lulu doll by Eden with a 1999 copyright. Her tag says: "Eden is proud to present Little Lulu the fun loving comic strip character who has been bringing laughs to generations since 1934. Whether you find Little Lulu a familiar friend from the past or the outspoken comic of the 90's, Eden has brought her to life for you! Star of the HBO animated series 'The Little Lulu Show'!" She's soft and washable, made of velour-like material and is about 14" tall. She has a removable dress and panties and is carrying a plastic purse. I wrote to the company and they sent me a list of stores in my area that sold this doll. The price was $24.99.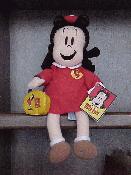 Here she is from the back.
Return to Michele's Little Lulu Memorabilia Page
Page last updated 22 Dec 2000.
Email comments to dmmaki@MichelesWorld.net