Scandinavian Frogs - Finland
---
I took a trip to Scandinavia with my husband Chuck and found some wonderful frogs! Here are some of the frogs I found in Finland. You may click on the thumbnail to see a larger version.
The first frog I saw in Finland was one that belongs to Ian and is one of Ian's favorite things. This is a picture of Ian's father Hasse showing me the frog. I'll tell you how I happened to see Ian's frog. Chuck had been e-mailing to someone in Finland about genealogy and mentioned that we were going to be visiting Finland this summer. Then he received an e-mail from that woman's daughter Ingela, who offered to help us get from the train station in Vassa to the rental car. She also invited us to her home for a visit. Imagine our delight when we got off the train, and there were Ingela and her husband Hasse to greet us! After getting our car we followed them to their home, where we met their two delightful sons Ian and Lars and had a wonderful dinner!
Here is a picture of Chuck and his relative Jari by a museum in Tampere.
This is a frog on an informational brochure we found while we toured Tampere with Chuck's distant relative Jari.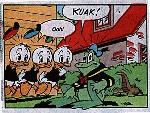 Here is a delightful picture of Donald Duck changed into a frog. I stumbled onto it while we were at the Market Place in Tampere. I was looking through a pile of old comic books and found this story in a 1991 comic.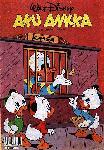 Here is the comic that has the story of Donald Duck as a frog. To see the entire story, please click on the following: Page 1, Page 2, Page 3, Page 4, Page 5.
For more frogs from Finland, see Frog Postcards from Finland. This page contains the postcards with frogs that I bought in Finland.
Please click here to see frogs from Sweden and Norway.

Return to top
Page last updated 01 Feb 2003.
Email comments to dmmaki@MichelesWorld.net