Scandinavian Frogs - Sweden
---
I took a trip to Scandinavia in August 1997 with my husband and found some wonderful frogs! Here are some of the frogs I found in Sweden. You may click on the thumbnail to see a larger version.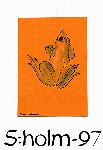 This is a postcard that was drawn by the daughter of a woman who had a booth at the Water Festival in Stockholm.
This is the first of three pictures that I bought from a small shop in Stockholm.
Here are the other two pictures I bought in Sweden.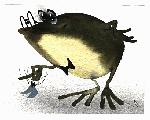 I found a Swedish comic book that had some pictures of frogs. The frogs are small, so I didn't make thumbnails, but you can open the pictures of the comics with frogs below: If anyone can supply translations, I would love to add them to this page! Thanks, Maria Lindstrand in Sweden, for the translations you sent!! Thanks, John, for letting me know the Trasket comic strip I found in Sweden is translated from English and is originally an Australian strip called Swamp.
#1 (Top): "Trasket", means The swamp; "Nar grodor reser..." = When frogs travel...; "Tull" = Customs, luggage control (Bottom): I hope tinfood is OK... I didnīt have time to go the garbage dump today...
#2 At the same time on the other side of the galaxy...
#3 What? Oh, sorry... What was the question again? I asked "Do you think I flaunt my high age?"
#4 "Soptipp" = garbage dump "Det lusar" = lice
#5 (The car brings frozen flies instead of icecream to your doorstep)
Please click here to see frogs from Finland and Norway.

Return to top
Page last updated 01 Feb 2003.
Email comments to dmmaki@MichelesWorld.net