Frog Drawings
Frog Drawings by Roland
I have received hundreds of drawings by Roland from Germany that I put on my frog site. You may see them at the links below. For more information about Roland, see the bottom of Frogs of Aristoquakes or see Roland's Frogsite. Here's another of Roland's Frog Websites. You may e-mail Roland at roland@wiegran.de .
R.W.A. Frog Picture Collection - See drawings of frog postcards, tradecards, cartoons, paintings, etc.
Froggy Coloring Book by R.W. Aristoquakes - See drawings of frogs that you can color
Frogs of Aristoquakes - See hundreds of unique frog drawings that you can use for your own frog creations
Frogs in Fable and Fairy-Tale ( Illustrations by R.W. Aristoquakes ) - See pictures of frogs from fairy-tales and fables
Frogs in Myth and Religion ( Illustrations by R.W. Aristoquakes ) - See pictures of frogs from myths and religion
Netsuke-Frogs of Aristoquakes - See many frog drawings related to the Netsuke of Japan
Aristoquakes Masterpieces of Frog-Art - See frog drawings in the likeness of masterpieces by other artists
Batrachomyomachia, Ilias post Homerum - See the pictures to the Frog/Mice-War (All drawings are free! No copy right reserved - Roland would like you to take the drawings to illustrate your own stories.)
The first two frog drawings were drawn by my children about the time they wrote the Frog Pledge of Allegiance and Frog Poem when they were around 6-9 years old. I told them about the frog on the Buster Brown Show that I watched as a child. I remembered the phrase: "Plunk your magic twanger, Froggie." The two drawings here showed up on a Mother's Day card Denise and John made for me. (See my Froggy the Gremlin page for more pictures of Froggy and the Buster Brown Show.)
Drawing I Here is the frog that was on the cover of the card.
Drawing II This is the frog with "Plunk your magic twanger, Froggy."
I have two frog drawings that were made by children of one of my nephews.
Drawing III Here is one made for me at Christmas time 1995 by Jeremy.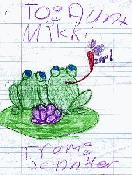 Drawing IV This one was made by Jennifer at Thanksgiving 1996.
Here are two frog drawings made by the son of one of my nieces.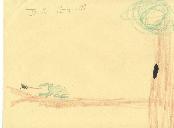 Drawing V This picture was made by Jack December 4, 1999.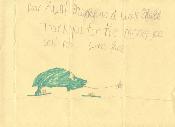 Drawing VI received this frog drawn by Jack on March 29, 2000.
---
Page last updated 07 Mar 2007.
Email comments to dmmaki@MichelesWorld.net