Froggy the Gremlin in
The Buster Brown Show
Some of you may remember that my sister lost her fight against ovarian cancer a few years ago. I am raising money to fight cancer through the American Cancer Society Relay for Life. If you would like to make a donation for this worthy cause, please go to my Relay for Life Website. Thank you for your support!
To hear the following phrases as they were spoken on TV, click on the links below:
"It's the Buster Brown Show!!"
"That's my dog Tige, he lives in a shoe!!.
I'm Buster Brown, look for me in there, too!!"
"Plunk your magic twanger, Froggy!!"
If you remember those phrases, you must be old enough to remember Froggy the Gremlin, and you might enjoy some of the pictures and information on this page. You may click on any of the pictures on this page to see a larger version.
Froggy appeared on the Buster Brown Show (Smilin' Ed's Gang, Andy's Gang) every Saturday, first on radio, and then on TV. Smilin' Ed McConnell was the first host on both radio and TV, and then Andy Devine appeared on the TV shows.
Here's Froggy the Gremlin. This little fellow is the five inch Froggy from Rempel Mfg. Inc, 1948, with © J. Ed. McConnell. He still squeaks, and if you cover the squeak hole on his back and squeeze him, he will stick out his tongue at you!! I lucked into finding this little fellow at an antique shop in Upper Michigan, and as soon as I saw it, I thought it might be Froggy from the Buster Brown show, but I wasn't sure. I bought it anyway, for about $10.00, and later confirmed through the Internet that it was, indeed, Froggy the Gremlin!!
Here is a Froggy the Gremlin mask.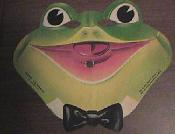 I received this postcard from a friend in Japan in 1998. I hadn't found my Froggy the Gremlin yet, and didn't recognize this as Froggy! When I was going through some of my frog things recently, there was Froggy the Gremlin staring at me!! The postcard has only "50's*60's*70's Graphic Collection" on the back.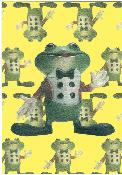 Froggy appeared on the Buster Brown Show with several other characters, which were all pictured on the Buster Brown shoe box. Here are their pictures, along with some pictures of the entire shoe box.
How to Get Videos of the Shows or Froggy
I have been asked where Froggy and videos of the old shows can be bought. You can buy the videos and Froggy through ebay auction. Go to: http://www.ebay.com and search for: froggy gremlin (if you are looking for Froggy) or search for: andy's gang (if you are looking for the videos.) You'll get a list of items with those words in the title. Click on one, and you'll get a page with a description and sometimes a picture of the item. You can register for ebay from that page (if you haven't done so in the past) and you can bid for the item from that page. I've bought most of my Buster Brown and Froggy items (and lots of other things too, like Little Lulu) and have had no problems with any of them.
For more information about Froggy and the shows, see FROGGY THE GREMLIN by Ronald L. Smith.
For more information about Andy, see The Andy Devine Page by Ronald L. Smith.
For more information about Smilin'Ed, see Remembering Smilin' Ed by Ronald L. Smith.

Page last updated 08 Jul 2009.
Email comments to dmmaki@MichelesWorld.net