---
Rainbow Falls
---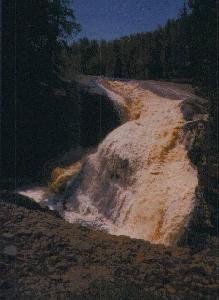 ---
Water Source

Black River

Location

Gogebic County, 8-12.5 miles north of Bessemer; 14.5 miles north of U.S. 1 on County road 513 (directional sign)

Size

40 foot drop

Trail

"A 1/2 mile hiking trail will take you from a paved parking lot to a stairway dropping down to an observation platform overlooking the scenic Black River and Rainbow Falls. . . . Easy to strenuous (stairs and steep grades). Pace yourself and avoid exertion."*

Other Information

"The falling water (40 feet) creates a mist, and sometimes with the right angle of sunlight, produces a rainbow effect, which gives the falls its name. Rainbow Falls can also be viewed from the east side of the river. This side will provide the photographer with a better angle of the falls. Trail access to the east side begins over the suspended foot bridge at Black Harbor Picnic Area. This trail is 3/4 mile long via the North Country Scenic Trail.
Black River Harbor parking lot picnic area can also be hiked to from the Rainbow Falls west trail (County Road 513). In September, one can watch as the chinook and coho salmon make their upstream runs to the falls."*

Information sent to me by Dag Grada: Rainbow Falls - For the best photograph of this falls, try hiking the trail that follows the East bank of the river. That indentation in the falls that shows in the left of your picture is actually a rather deep pothole, almost a cavern. The dynamics of the water ricocheting through this space are fascinating.

* From "Black River Harbor", Ottowa National Forest, Bessemer Ranger District, Bessemer, MI 49911 (906) 667-0261, U.S. Forest Service, Department of Agriculture, Eastern Region, a brochure I picked up at the ranger station.
See also Sandstone Falls, Gorge Falls, Potawatomi Falls, and Conglomerate Falls. These five falls are all within a few miles of each other along the Black River.
Return to Waterfalls in Gogebic County II
Page last updated 28 Dec 2000.
Email comments to dmmaki@MichelesWorld.net