---
Conglomerate Falls
---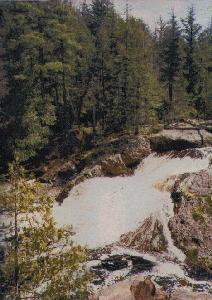 Water Source

Black River

Location

Gogebic County, 8-12.5 miles north of Bessemer; 12 miles north of U.S. 2 on County Road 513 (directional sign)

Size

40 foot drop

Trail

"Hiking trail (3/4 mile in length) and paved parking lot at the head of the trail. Trail is easy to strenuous at times. Pace yourself and avoid pverexertion. The hiking trail will drop steadily as you near the riverbank."*

Other Information

At the falls, the river separates into two sections, falling 40 feet around an island of conglomerate rock, which gives the falls its name. Old growth hemlock and hardwoods add to the natural beauty of the area. Gorge and Potawa-tomi Falls can also be hiked to from Conglomerate Falls going north (downstream) along the river (1/2 mile) via the North Country Scenic Trail."*

* From "Black River Harbor", Ottowa National Forest, Bessemer Ranger District, Bessemer, MI 49911 (906) 667-0261, U.S. Forest Service, Department of Agriculture, Eastern Region, a brochure I picked up at the ranger station.
See also Rainbow Falls, Sandstone Falls, Gorge Falls, and Potawatomi Falls. These five falls are all within a few miles of each other along the Black River.
Return to Waterfalls in Gogebic County I
Page last updated 28 Dec 2000.
Email comments to dmmaki@MichelesWorld.net