Little Lulu Dolls by Eden
---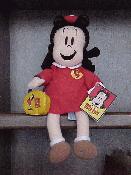 This is the new Little Lulu doll by Eden with a 1999 copyright. Her tag says: "Eden is proud to present Little Lulu the fun loving comic strip character who has been bringing laughs to generations since 1934. Whether you find Little Lulu a familiar friend from the past or the outspoken comic of the 90's, Eden has brought her to life for you! Star of the HBO animated series 'The Little Lulu Show'!" She's soft and washable, made of velour-like material and is about 14" tall. She has a removable dress and panties and is carrying a plastic purse.
I wrote to the company ( Eden, LLC; One Penn Plaza, Suite 4320; New York, NY 10119; (212) 947-4400 Fax- (212) 239-9616) and they sent me a list of stores in my area that sold this doll. I called one of the stores and was able to order it over the phone and have it mailed to me (all of the stores were at least an hour away). The price was $24.99.
This doll is now available through "Betty's Attic" catalog - in fact, the Lulu doll appears on the front page of the Collector's Edition IV 1999 catalog which I recently received! The doll, along with with The Little Lulu Joke Book, (see below) appear together on page 41, item # B D-40306, for $34.00 for both of them. The phone number is 1-800-294-4068.
See Little Lulu Links for links where the doll is available online.
Here she is from the back.
Little Lulu and Tubby Dolls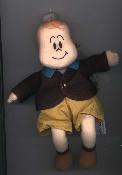 "My brother found more LuLu items at his local drug store in Chicago--small LuLu and Tubby dolls, 8-1/2 to 9" tall, which he gave to me for Christmas. Thought you might want to announce this for all the LuLuphiles who visit your site. Marlys in Chicago"
I bought them through The Sly Fox , P.O. Box 117, 123 N. Springfield St., Virden, IL 62690, 1-877-848-3100 slyfox@ctllc.com !!
The Little Lulu Joke Book, written by Chip Lovitt, has a 1998 copyright from Golden Books Publishing Company, Inc. It's paperback and about 5x7/5", with 64 pages. The book starts with Lulu in front of a microphone (as on the HBO videos) with the sign above her "Welcome to Little Lulu's Comedy Club". Lulu says: "Hi, my name is Lulu, and if you like to laugh, you've come to the right place. I've got jokes, riddles, and all kinds of funny business for you. Come and join me and my friends Tubby Tompkins, the twins Jeannie and Joannie, Annie, Iggy, and the rest of the gang for a non-stop, laugh-filled jokefest. Turn the page and get ready to rock - with laughter, that is!" And then the jokes begin, starting with: "I just wrote this funny book about eggs. I'm going to call it Little Lulu's yolk book." and "My friend Annie put ice cubes in her aunt's bed. That's because she was trying to make auntie-freeze!"
I bought one copy of this book from the same store where I bought the doll above. I also bought one last year through Amazon ( www.amazon.com ). It retails for $2.99, but the Amazon price is $2.39. It's also available for $2.39 at www.etoys.com. Or you can get it with the doll above through "Betty's Attic" catalog - see information with the doll above.
Go to Top
Page last updated 27 Nov 2002.
Email comments to dmmaki@MichelesWorld.net