Still More Frogs From Friends XIV
---
I've received lots of frog pictures over the past year. Sorry it's taken so long to get them on my frog site. Here are some of them. You may click on the thumbnails to see a larger image. Enjoy!!
---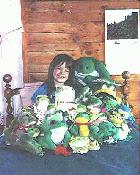 Here is Nancy's 7-year old daughter with a small portion of her frog collection - thanks Nancy!!
---
"Here is an illustration from a current project I am doing: BILLY FROG ADVENTURES." Thanks, Chris!!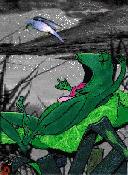 "This is the same Billy Frog illustration combined with some photography and imagination."
You can see more of Chris Jennison's (Blueeggman@ne.mediaone.net) work at BLUE FOX PRODUCTIONS!
See another picture below.
This is a prototype for a Billly Frog coloring book.
---

"I like frogs too and I'd like to share with you the frog logo from my server, Frognet." Thanks, Mary!!
---
See more frog pictures at Still More Frogs From Friends XV
Page last updated 01 Feb 2003.
Email comments to dmmaki@MichelesWorld.net