Still More Frogs From Friends XV
---
I've received lots of frog pictures over the past year. Sorry it's taken so long to get them on my frog site. Here are some of them. You may click on the thumbnails to see a larger image. Enjoy!!
---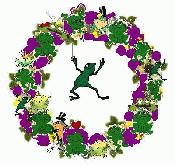 "I made a wreath for my friend, and thought I'd share
it with you." Thanks, Brenda!
---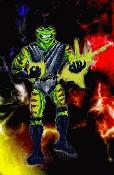 "This is my picture. The Mighty Zuesfrog." Thanks!
---
Here are two pictures sent by Johan from Copenhagen. The first is titled "FROG TEACHING KAPPA" and the second is "FROG-BREVVÆGT JAPAN." Thanks Johan!
---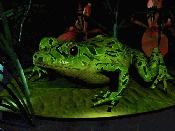 "I just send you a Frog..I hope you don't have it ..." Thanks!
---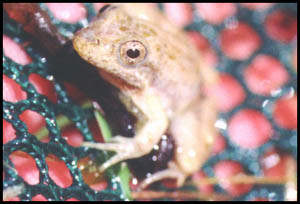 This picture was sent by Chuck - thanks!
Page last updated 01 Feb 2003.
Email comments to dmmaki@MichelesWorld.net