---
Cascade Falls
---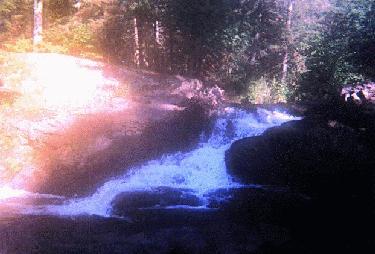 County:

Ontonagon

Water Source:

Cascade Creek

Drop:

20 foot descent with 5 foot drop

Location:

7 miles northeast of Bergland

Directions:

Go east of Bergland 1.2 miles on M-28 to USFS-400. Take USFS-400 north for about 7 miles to the "Cascade Falls" sign. Turn right to the parking area about .3 miles down the road.

Trail:

The trail is marked from the parking area. You can take either trail when you reach a Y - the upper trail is a little longer - I took the lower trail. The trail is about 1 mile.

Other Photo:

Here is another photo showing both the lower falls and the rocky outcrop.
Return to Waterfalls in Ontonagon County
Page last updated 28 Dec 2000.
Email comments to dmmaki@MichelesWorld.net