---
Schweitzer Falls
---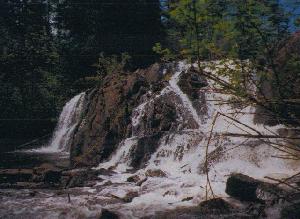 Water Source: Schweitzer Creek
Location: 2 miles south of Palmer

Size: 30-35 feet
Directions: "From M-35 south of Palmer (just past a Standard gas staton on the right) turn right (west) onto Co. Rd. 476 and go about 1.2 miles to Co. Rd. 565. Turn left (south) onto Co. Rd. 565 and go approximately 1.1 miles to a trail road on the right. (You have gone too far if you reach C0. Rs. ML on the left. Turn around and return to the first trail road to the left.) Schweitzer Falls is about a quarter of a mile down this dirt road. This road is generally in very good condition and easily driveble. But because of a large rock that was sticking up during our visit, we chose to park on the main road and walk the quarter mile to the falls.
"As an alternate route to the falls,stay on Co. Rd. 565 until it crosses Schweitzer Creek, just past the junction with Co. Rd. ML. Park in the bridge area and walk upstream about a quarter of a mile." From Michigan Waterfalls by Penrose
Trail: If I recall correctly, when I was there using the first directions, the trail road was marked "Private" so I didn't go down it. Instead, I walked upstream from the bridge. It was quite swampy.
Other Information: I was at Scweitzer Falls on 1 June 1994 and on 13 June 1996.
---
Comments?

I hope you enjoy my Waterfall Page page and learn something of interest to you. If you have any comments, please send them to my address below.
Return to Waterfalls in Marquette County II
Page last updated 07 Jun 2003.
Email comments to dmmaki@MichelesWorld.net