---
Canadian Waterfalls
---
I took a trip to Canada in July, 1992 and was able to photograph a few waterfalls in the Canadian Rockies.
Pyramid Falls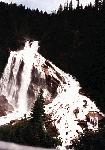 Pyramid Falls is located between Kamloops and Jasper along the railroad route the Rocky Mountaineer takes. The train slowed down at the falls so we could take a picture.
Tangle Falls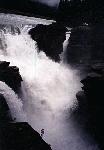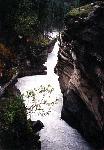 From Jasper we took a bus along the Columbia Icefields Parkway and through the Athabasca Pass. We stopped at Tangle Falls on the way to the Athabasca Glacier.
Bow Falls
Bow Falls is located in Banff. I walked to the falls from the Banff Hotel, where we stayed.
Page last updated 27 Dec 2000.
Email comments to dmmaki@MichelesWorld.net