---
Slate River Falls
---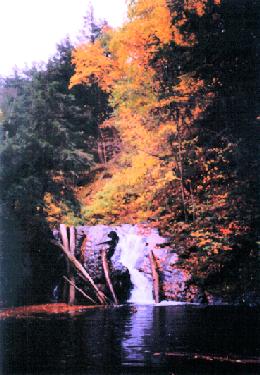 County:

Baraga County

Water Source:

Slate River

Drop:

25 foot drop

Location:

3.5 miles southwest of Skanee

Directions:

From US-41 entering L'Anse from the south turn right onto Broad Street and go about .6 miles to the blinker light on Main Street. Take Main Street to the right (east) and go about 11 miles to the Slate River (Main Street will turn into Skanee Road). Turn right (south) onto the first trail road past the river, which is marked with a sign to the Falls, and park.

Trail:

The Michigan Waterfall book states that "The half-mile trail to Slate Falls follows the banks of the river." However, when I tried to follow the banks of the river I reached a place where I could go no farther unless I walked in the river, and the river went all the way to the high river bank. I went back downstream and followed a trail up the bank and walked along the top of the bluff to where I could see the falls below. The trail continued beyond the falls, so I followed it to where it began to go down toward the falls. At that point I was walking along the top of a narrow ridge which dropped sharply on both sides. From that point I could see another smaller falls, maybe 75-100 feet upstream from the larger falls. However, the rail seemed to end just ahead as it would overlook the larger falls, and I was afraid to follow it to the end. So I went back to where I was high above the larger falls and found a rather poor trail which went down the hill to the falls. That was difficult going because it was very steep and about 150 feet high.

Other Information:

I kept thinking there must be an easier way to the falls, since the Michigan Waterfall book did not mention the need to walk along the bluff. It is possible that the river was higher this time than when the authors were there 9 years ago. I checked both banks, and on both sides the rock along the river bank dropped straight down into the river making it impossible to walk along the side of the river. But I know I was in the right place, because the falls I saw matched the photo in the book except for the addition of the logs standing up along the falls which were not there 9 years ago.

Other Photos:
---
Comments?

I hope you enjoy my Waterfall Page page and learn something of interest to you. If you have any comments, please send them to my address below.
Return to Waterfalls in Baraga County I
Return to Upper Michigan Waterfalls
Page last updated 28 Jul 2006.
Email comments to dmmaki@MichelesWorld.net