---
Memorial Falls
---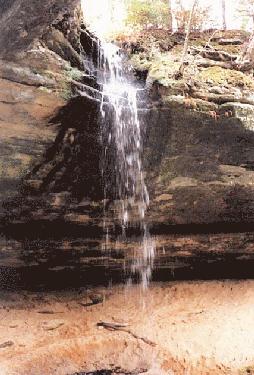 (You may click on the picture for a larger version.)
County:

Alger

Water Source

Tannery Creek

Location

Munising

Size

30 foot drop

Directions

Go east on H-58 (Munising Avenue) from M-28 about 1.5 miles to Nestor Street. Turn right on Nestor and go about 1 block to a sign to the falls on the right.

Trail

There is a short, easy trail to the top of the falls, which then continues around to the bottom of the falls. The trail continues behind the falls and up the other side.

Other Information

If you continue along the trail just beyond the falls, there is an interesting rock formation with a hole in it. I recall that when I visited this falls with my son John a few years ago we walked to the falls from this direction, coming to the rock with the hole in it before the falls.
Here is a picture from that trip of John looking through the rock.

I had previously had a picture of Munising Falls on this page instead of Memorial Falls. The two falls are similar because I remember that we walked behind both of them. However, now you can no longer walk behind Munising Falls.
---
Return to Waterfalls in Alger County I
Page last updated 29 Jul 2006.
Email comments to dmmaki@MichelesWorld.net