Little Little Valentine's Day
Yow! It's Valentine's Day in Meadowville!
Here are some Little Lulu Valentine's Day covers and a Saturday Evening Post cartoon that appeared in Little Lulu and Her Pals for your enjoyment!
You may click on the images to see a larger image.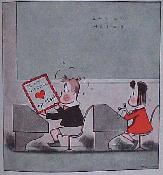 See some Little Lulu Valentines.
Return to Little Lulu Holidays
Page last updated 27 Jan 2005.
Email comments to dmmaki@MichelesWorld.net