Handmade Little Lulu Doll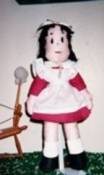 This is a new Little Lulu doll that is handmade. The creator wrote: "I have a copy of a Little Lulu doll pattern from McCalls Patterns. It makes a really cute doll about 14" tall. If anybody wants a handmade Little Lulu Doll please contact me. Karyl Carlson, karyl_carlson@hotmail.com."
You may click on the thumbnail to see a larger version of the photo.
For more of Karyl's dolls, see www.i-once-had-a-beautiful-doll.com and www.karylsozdolls.com
Page last updated 10 Jan 2003.
Email comments to dmmaki@MichelesWorld.net