Frog Postcards in Series II
---
Click on the thumbnail images to get the full-sized image.
---
Unidentified Series by Cobb X (4 postcards)
This series has no title but has what appears to be Cobb X as the artist on each card. If you have any additional cards in this or any other of the series, I would love to include them. You can contact me at the e-mail address below.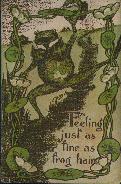 "Feeling just as fine as frog hair" sent from Illinois August 16,1912.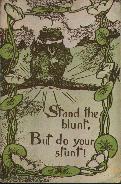 "Stand the blunt, But do your stunt!" sent from New York July 14, 1911.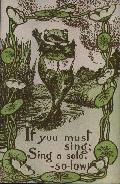 "If you must sing; Sing a solo. - so-low!" not mailed.
"A friend that hain't in need is a friend indeed" not mailed.
"F.L.", by Rose Clark, 1907, New York (2 postcards)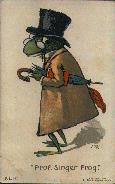 "Prof. Singer Frog" sent from Illinois September 28, 1909.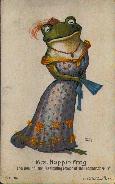 "Mrs. Hoppin Frog, the Beautiful and Fascinating Leader of the Froghurst 400" sent January 16, 1912 (I think - it's hard to read). Sometimes the messages written on the postcards are as interesting as the card. This one is addressed to Miss Lucile Anderson and says: "Dear Cousin, I will now write a few lines and let you know we are all well & hope you are the same. We wished you had a Merry Christmas and a happy New Year. Good-bye crybaby from cousin Sophie"
"Frog in Your Throat Company" (3 postcards)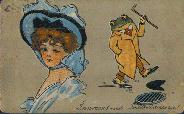 "Innocent and Instantaneous" sent from Missouri December 15, 1912 (I think). This card has a two cent stamp on it rather than a one cent stamp as the earlier postcards had.
"Popular Ecerywhere" not mailed.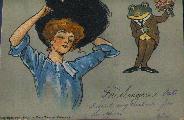 "For Singers" sent from Illinois 1906. The message written on the front of this card says "but I want my curtains for the office Chas"
Page last updated 01 Feb 2003.
Email comments to dmmaki@MichelesWorld.net