Frog Postcards in Series I
---
Click on the thumbnail images to get the full-sized image.
---
"Frog Series", by Leota Woy, 1910, New York (10 postcards)
This is the largest series that I have, with 10 postcards. They range from No. 70 to No. 83. If you have any additional cards in this or any other of the series, I would love to include them. You can contact me at the e-mail address below.
"Still on top" sent from Iowa April 18, 1911.
"Just having a good time!" I cannot read the postmark.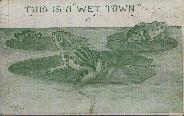 "This is a 'wet town' " sent from Iowa March 17, 1911. Note that the person who sent the postcard wrote on the front "as yet so I hear".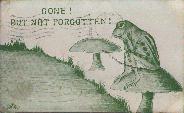 "Gone! But not forgotten!" sent from Kentucky May 23, 1911.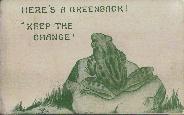 "Here's a greenback! 'Keep the change' " sent from Iowa March 3, 1911.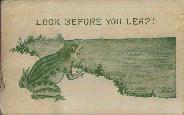 "Look before you leap!" sent from Nebraska June 8, 1911.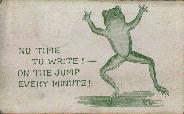 "No time to write! - On the jump every minute!" sent from Iowa March 12, 1911.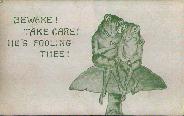 "Beware! Take care! He's fooling thee!" sent from Michigan March 13, 1911.
"Still in the swim" sent from Iowa March 2, 1911.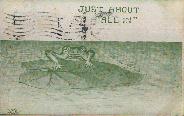 "Just about 'all in' " sent from Illinois February 28, 1911.
See more postcards from Leota Woy that were sent to me by a friend in Frogs From Friends II
Page last updated 01 Feb 2003.
Email comments to dmmaki@MichelesWorld.net