Frog Postcards for Holidays I
---
Click on the thumbnail images to get the full-sized image.
---
Frog Postcard for Christmas
"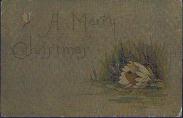 "A Merry Christmas" sent from Wisconsin December 17, 1907.
---
Frog Postcards for New Year
"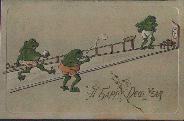 "A Happy New Year" sent from Illinois December 31, 1908.
"
"Happy New Year to you" sent from Colorado December 31, 1908.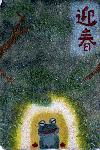 This is a 1996 New Year's postcard which is an original created by my friend Izumi from Japan. The frog is in a snow house under a pine tree.
---
"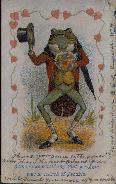 "Some folks would say that Froggie was in search of Trouble" sent from New Hampshire February 12, 1907.
"
"Fair exchange is no robbery (when Cupid plays a part) I'll give you a place in my automobile If you'll give me a place in your heart!" sent from Illinois February 14, 1907.
---
Frog Postcards for St. Patrick's Day
"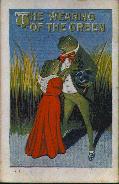 "The Wearing of the Green" sent from New York March 13, 1908.
"
"Sure, this is the day when the frogs is that nervous, for fear good St. Patrick will come back to serve us!" sent from California March 14, 1910.
Page last updated 13 Feb 2005.
Email comments to dmmaki@MichelesWorld.net