Frog Postcards From Different Places
---
Click on the thumbnail images to get the full-sized image.
---
Frog Postcards From Unspecified Vacation Spot
These postcards were sent from vacation spots that were not indicated on the postcard.
"Having a swell time here" sent from Illinois in 1908.
"Vacation! Forgetting the world, by the world forgotten" sent from Michigan February 1, 1914.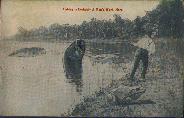 "Fishing is certainly a man's work here" sent May 7, 1913.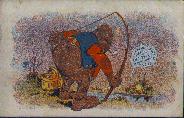 "Fishing is great here. Get your hook out & try it" sent from Illinois October 30, 1913.
---
Frog Postcards From Specific Locations Added to Card
The next three postcards have the location added to the card. The first two are identical cards with the message written with glue and sparkles. The last one has the city written in pencil.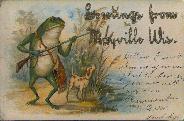 "Greetings from Mayville Wis." sent from Wisconsin September 10, 1906.
"Greetings from Waynesburg, O." sent from Ohio in 1906.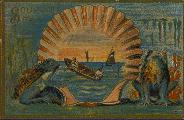 "Souvenir from Manston" (I think - it's hard to read) with no postmark.
Page last updated 01 Feb 2003.
Email comments to dmmaki@MichelesWorld.net