More Frog Postcards From Friends
---
Here are three more frog postcards that were sent to me by some frog friends. You may click on the thumbnail to see a larger version of the pictures.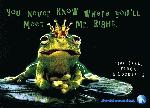 This card was sent to me by Tony tonym@airmail.net and is advertising the Shedd Aquarium in Chicago, Illinois. The card was made by GoCARD POSTCARD ADVERTISING.

This card was sent by my friend Izumi from Japan and was made by Active Corporation with copyright Takamori Tomoko.
Kallie Gustafsson from Sweden sent this postcard which is advertising a sleeping pill. It says "Hard to fall asleep sometimes?" This is for Pharbio Medical AB Göteborg.

This postcard was sent to my husband and is for UNICEF. Click here to see the back of the card.
Page last updated 01 Feb 2003.
Email comments to dmmaki@MichelesWorld.net