Frogs From Friends IV
---
I have received some frogs recently from friends who responded to my frog page. I love receiving new frogs, and I want to share them with other frog fans! You may click on the thumbnail to view a larger version of most of the pictures.
The final group of frogs from friends were sent to me from Izumi from Japan. She sent a photograph of herself with her friend Kermit the Frog.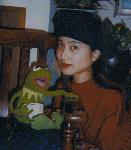 Some of the frogs she sent are drawings. The first is Dancing Frog. The second is Father and Son the FROG. This one was drawn by Dick Bruna, a famous artist who lives in Holland. The third, Bye Bye Frog, was drawn by Izumi.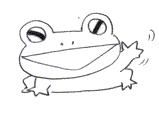 Others are stencils she created and painted on post cards.
This is a 1996 New Year's postcard which is an original created by Izumi. The frog is in a snow house under a pine tree.
This frog is a reproduction of "UKIYO-E" (old Japanese painting) and was done by stencil.
Izumi also painted "Kermit" and a frog which she stenciled onto a pendulum clock.
If you would like to see more of Izumi's work, you may see it on Izumi's Page.
Page last updated 01 Feb 2003.
Email comments to dmmaki@MichelesWorld.net