Frog Postcards From a Friend in Finland
---
My friend in Finland, Jyri, sent me 20 frog postcards!
The first eight postcards on this page are Carte Blanche Greetings Ltd. from Finland. The next is one from a series on proverbs from Paris. The last one was made by one of Jyri's friends. A special thanks to Jyri for the translations into English!
Here they are:
(Click on the thumbnail images to get the full-sized image. )
11.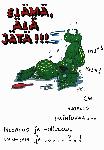 "ELÄMÄ, ÄLÄ JÄTÄ!!! (Life, don't leave!)" "Nyyh! Nyyh!" "On nuoruus haihtuvaa.... (Youth is disappearing...) Nuoruus ja hulluuus, vanhuus ja .....?!! Youth and madness, old age and ....)" This and the next two cards are 1995 Carte Blanche Greetings Ltd. Linnapaperi Oy Puh. None of them were mailed.
12.
"KIITTI! Kylläpä sitä riitti! (Thanks! There was enough of it!)"
13.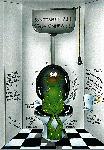 "Synttärit?!! (Birthday party?) Siispä ONNEA!!! (So, good luck!!!)"
14.
"Olen hulluna sinuun! (I am grady about you!)" " This and the following five postcards are 1996 Carte Blanche Greetings Ltd. Linnapaperi Oy Puh.
15.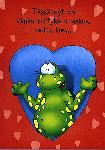 "Tässä nyt on vähän selityksen makua, mutta kun...(This seems to be explanations, but when I..)"
16.
"Mennäänkö maltaalle? (Let's go to have a beer?)"
17.
"Sinä teit sen! (You did it!)" "täten perumme puheemme ikuisesta rähmäkäpälastä! (we hereby take back our speech of 'Mr. Badluck' forever!)"
18.
"Sinä olet siell! (You are there!)" "Sinun pitäisi olla täällä! (You should be here!)"
19.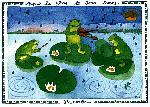 "A près la pluie, le beau temps. Proverbe" The translation on the back is "After the rain, fine weather." This card is number 5 in a series of proverbs by Cartes d'Art, Monique Gauraiu, printed in Paris, France.
20.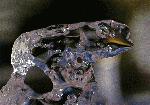 This is called "Icefrog" and is copyright and photo by Paavo Korhonen, 1981, Tampere Suomi-Finland.
See a picture created especially for me by the creator of the Carte Blanche Greetings postcards, along with information about how to contact the company and web page of the artist. Frogs From Friends XVIII
Page last updated 01 Feb 2003.
Email comments to dmmaki@MichelesWorld.net