Czech Frogs
I took a trip to the Czech Republic in May, 1996. Among the numerous photos I took, I managed to get some pictures of frogs. I also bought a small painting of a frog. I hope you enjoy them.
Click on the thumbnail images to get the full-sized image.
This is a flyer notice that was pasted to a wall advertising a pub tour in Prague. It says underneath the drinking frogs "You'll never miss the water."
This is the painting that I bought from the artist when I was walking across the Charles Bridge in Prague. Praha is Czech for Prague.
This is the artist with the painting when I bought it.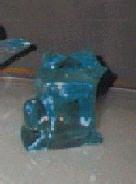 This is a glass frog on display at the Moser Glass Company.
I found this frog on the side of a bus that we took from the bus parking lot into the spa town of Karlovy Vary.
This is a picture of the bus that the frog is on.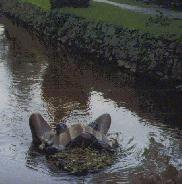 This frog was in the canal in Trebon.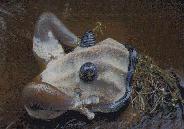 This is a side view of the frog in the canal in Trebon.
---
I hope you enjoy my Frog Page and learn something of interest to you. If you have any comments, please send them to my address below.
Page last updated 01 Feb 2003.
Email comments to dmmaki@MichelesWorld.net