---
Waterfalls from Friends XXIX
---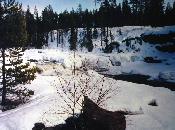 Here is a photo of Övre Fjätfallen (the upper falls) in the River Fjätälven in Sweden sent to me by Nicklas. He wrote:
"A few years ago I came across your site when I was searching the web for pictures of the river Fjätälven in Sweden, and you had an image of the falls "Flätfallen".
"When I found those pictures, I wrote to you, and said that I'd maybe send you a photo of the upper falls as it looks in the winter, if I cold get a digital copy of my photo of it. Well, here it is!
"I love fishing in river Fjätälven - there's brown trouts and char in the river.
"Anyway, the view of the falls in winter is something only a few people have seen. Thera are no open roads in the winter, so you have to go there by ski or snow scooter. I went there skiing, and it took me about an hour to get there from from the cottage where I usually stay during easter holiday. I hope you enjoy the picture of the falls."
Return to Falls from Friends
---
Page last updated 26 Mar 2006.
Email comments to dmmaki@MichelesWorld.net