---
Waterfalls from Friends XXIV
---
Here are Raymonskill (middle portion and lower portions) and Dingman's Falls, the 2 highest waterfalls in Pennsylvainia, at 180 and 130 ft. respectively. They are located in the Delaware Water Gap National Recreational Area, located in extreme east-central Pennsylvania in the foothills of the Poconos.
These photos were sent to me by David. He said: "You might wish to include this picture of as much as I could get by leaning over the lower portion of Raymondskill Falls. Due to the fragile nature (a pest is killing the Hemlocks) of the bottom area, they don't let people all the way down the stairs to the bottom there any more."
You may click on the images to see a larger version.
Raymondskill Falls (middle portion and lower portions)
Dingman's Falls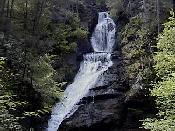 Return to Falls from Friends
Return to Waterfalls in Pennsylvania
---
Page last updated 17 Mar 2006.
Email comments to dmmaki@MichelesWorld.net