Glory Hole Falls
---
Location: Newton County, Arkansas
Water Source: Newton Spring
Drop: 25 Feet
Flow: Spring
Directions: Take Route 16 west, from the junction of Rt. 16 and Rt. 21 near Swain, for 2.3 miles to an unmarked dirt road to the left (there is a blacktop entrance to the road for about 10 feet. Directly across the road there is another blacktop entrance with a metal gate across the drive to a lone farm house. There is a sign on the fence that says "No Parking." Park in the grass where it is level to the right of the dirt road just off the highway (see photo below).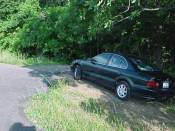 The trail is about 1 mile down to the falls. Once you get into the woods, the trail turns to the left, and is actually a road. After about 5 minutes, there is a Y in the road - take the right fork. There is a large brown sign at that point, but there was just blank white paper hanging in the sign board. The road will narrow and turn into a dirt trail. You will cross two creeks along the trail. The trail will take you to some rocks over which the water flows and then drops into a hole, as in the first photo above - approach carefully! You can follow the trail to the right to get to the base of the falls and see it coming through the hole, as in the second photo above. Be careful - it was slippery when I was there climbing down to the base of the falls.
Notes: I went to Glory Hole Falls in Arkansas June 3, 2003. As I was hiking to the falls, I heard a small waterfall shortly after crossing one of the creeks, and followed a narrow path to see the falls. They are in the third photo above. Then as I was at the Glory Hole Falls and walking down to see the base of the falls, there was another smaller waterfall off to the right, which is in the last photo above.
Return to Waterfalls in Arkansas
---
Page last updated 07 Jun 2003.
Email comments to dmmaki@MichelesWorld.net
---