Eden Falls
---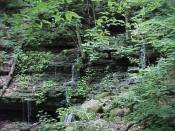 Location: Newton County, Arkansas
Water Source: Clark Creek
Drop: 40 Feet
Flow: Year
Directions: From Route 21 near Boxley, take Route 43 north for 3.3 miles to the sign for the Lost Velley Campground, Buffalo National River. Turn into the campground and continue for .5 miles to the parking area. The trailhead is at the end of the parking lot.
Notes: I went to Eden Falls in Arkansas June 3, 2003. The trail is about 1.5 miles to the falls, according to Waterfalls USA - I think it is less than that, because it took me only 25 minuted to get to the falls, and I usually walk about 20 minute miles. There are mile markers at .1 and .2 miles, then again at .5 miles. Near the .5 mile mark is another waterfall, Natural Bridge Falls. Up to these falls the trail was a wide, gravel path that was fairly level. After that, the trail narrowed and was a steeper dirt path.
The first two photos above are of Eden Falls. The third is of an unnamed waterfall I passed on my way back from Eden Falls. I too the upper trail back, and I heard some water off to the right, so I went back along a little trail to see these falls. They were shortly before the upper trail dropped to meet the lower trail.
The total hike in and back took me about 1 hour.
Return to Waterfalls in Arkansas
---
Page last updated 07 Jun 2003.
Email comments to dmmaki@MichelesWorld.net
---