Little Lulu Purses

There are several different Little Lulu purses that have been created over the years. The first was made in 1954?? and the most recent in 1998??. Below are pictures of the Little Lulu purses. You may click on the images to see a larger version.
1944
Toy Handbags by Georgine Novelties
These little purses are doll-sized, measuring about 3 1/2" long and 2 3/4" tall. They are the purses seen on the Georgine Little Lulu dolls of the 1940s. On the purses it says: "19©44" with "M-H.B." below for Marjorie Henderson Buell. These purses came in different styles and colors. I've seen red, blue, and green.

Little Lulu Zipper Purse with Keychain
This little purse is about 5" tall with a zipper across the bottom. The purse is white on the back. It is © Western Publishing Company, Inc. and was made in Magau. some time after the 1972 transition of ownership of Lulu from Marge to Western.

Little Lulu Shoulder Bag
This little shoulder bag is about 5 1/2 " square without the strap. I don't know how long the strap is, because it is still in the package. It is © Western Publishing Company, Inc. 1974 and made in Hong Kong by Larami Corp Phila. PA.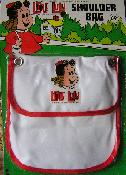 Little Lulu Coin Purse by Hallmark
This Hallmark Little Lulu coin purse measures a little over 5" x 3". On the back it states "Hallmark "Little Lulu" Purse 85PF140-2 Made in Hong Kong Hallmark Cards, Inc. Kansas City, Mo. 64141 © Western Publishing Company, Inc."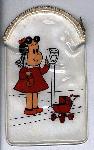 1999
Little Lulu Purse by Precious Kids™
This Lulu purse is about 10.5" tall. The lable states that there is a 1999 copyright by Golden Books Publishing Company, A subsidiary of Golden Books Family Entertainment. All rights reserved. Watch The Lulu Show on HBO Family. Crafted in China for Precious KidsTM (USA), Indian Wells CA 92210.


Page last updated 12 Jan 2006.
Email comments to dmmaki@MichelesWorld.net