Little Lulu Musical Mugs

Lulu and Tubby Musical Mug
The Little Lulu and Tubby ceramic cup plays music when it is picked up.It is 4 inches tall and marked Western Publishing Company, Inc..The wind-up music box is made by Schmid Bros. The mug is made in Japan.

Tubby Musical Mug
This musical mug has a picture of Tubby. The backside of the mug is marked Western Publishing Company, Inc. The bottom has the wind up musical knob and is marked 1972 Japan and what looks like Chadwick-Miller. The mug plays Happy Birthday. It is 4" tall, but the actual space for liquids is 2 1/2."

Little Lulu Musical Mug
This 4" Schmid Bros. porcelain musical Little Lulu mug has © Western Publishing Co., Inc. on the back of it. It measures 4 1/4" high.. 3 1/2" diameter at base... The music is from Mary Poppins: "Just a spoon full of sugar helps the medicine go down..." It has an on and off switch on it. The bottom shows Patent Number 47-24378 and has the Schmid Brothers label. Half of the cup is for liquid; he other half holds the musical mechanism.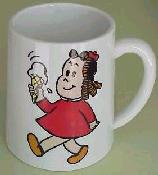 Page last updated 04 Feb 2005.
Email comments to dmmaki@MichelesWorld.net