Little Lulu Jewelry
Little Lulu Charm
This little metal charm is almost an inch tall. It has Western Publishing copyright on the back and I believe it is from the 1970s.

Little Lulu Earrings
There Little Lulu Earrings were made in Hong Kong and are approximately 1 3/4 " long. They look like they came from a Little Lulu Dress Up set like those below.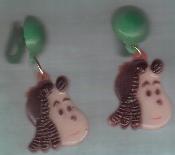 Little Lulu Dress Up Set
These Little Lulu Dress Up Sets have no date with Western Publishing Company copyright on the card.The first includes a necklace, a pair of earrings, a bracelet, and a ring; the second appears to include barettes instead of the ring and bracelet; and the third includes two bracelets, a ring, and a pair of earrings. The last one has a bracelet and earrings. These don't have Little Lulu on them as the previous ones do.

Little Lulu Goes To The Ball
This set was made in Hong Kong.

Little Lulu Funny Monkey Jewelry
"As Seen On TV" this was probably out in the early 1970s and cost 59 cents. The copyright is Western Publishing.

Little Lulu Pet Rings
These Little Lulu pet rings came on a card with © Western Publishing Company.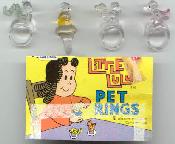 Little Lulu Jewelry Box
The card this set is on is 6' x 10'. It contains a necklace and a jewelry box.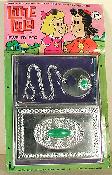 Little Lulu Necklace
This Little Lulu necklace comes with an 18" chain.


Little Lulu Pin
This is a 1" limited edition enamel pin that was made for the UFDC Doll Convention in the early 80s.

Little Lulu Pinback Button
These are two Little Lulu pinback buttons. The first pin is 2" in diameter; the second is 1 1/2".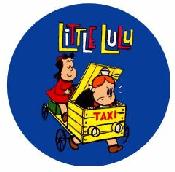 Hallmark Little Lulu Jewelry
Little Lulu Pin
This Little Lulu pin by Hallmark is #100PF144-9. It is © Western Publishing Company, Inc. and is the 2 1/2" high figure of Little Lulu with an ice cream cone.

Little Lulu Bracelet
This Hallmark bracelet is on a card that says "A Delightful Gift Or Party Prize". The card measures 5 1/2" x 4 1/4".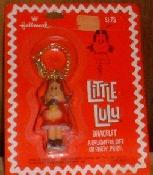 Little Lulu Necklace
This Little LuLu neckace from the 1970s is by Hallmark, © Western Publishing Company. Lulu is 2 1/4 inches tall.


Page last updated 09 Feb 2005.
Email comments to dmmaki@MichelesWorld.net