Hallmark Little Lulu Items II

1974-1975
After Marge sold the copyright for Little Lulu to Western Publishing Co., Hallmark created an extensive line of Little Lulu items.
The Hallmark Little Lulu birthday party items featured a picture of Lulu and her friends playing marbles. The items included party invitations, table centerpieces, paper tablecloths, dinner and dessert paper plates, dinner and dessert napkins, and 9 oz. paper cups. It also included party favors: mini puzzles with a picture of Lulu painting at an easel, mini coloring books, coin purses with a the cover of LL #89, and pressure-sensitive seal books. Below are pictures of some of those items. (You may click on the photo for a larger picture.)
Party Invitations
Table Centerpiece

Paper Plates and Cups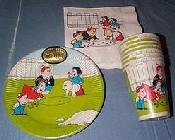 Paper Napkins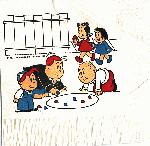 Paper Tablecloth
Here is a section from the tablecloth, and then some individual pictures enlarged from that section:
Little Lulu Coin Purse Party Favor
This Hallmark Little Lulu coin purse measures a little over 5" x 3". On the back it states "Hallmark "Little Lulu" Purse 85PF140-2 Made in Hong Kong Hallmark Cards, Inc. Kansas City, Mo. 64141 © Western Publishing Company, Inc."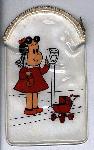 Little Lulu Coloring Book Party Favor
This Little Lulu Coloring Book is a very little coloring book, about 4" x 5". It is by Hallmark with a Western copyright. This book has only 8 pictures, printed on only one side of the paper. It appears it was a party favor with that set. Here is a sample page from this little book.
Other Little Lulu Hallmark Items
Little Lulu Doll
This Little Lulu Doll by Hallmark is about 6 1/2" tall. She has brown yarn hair and painted on facial features. Her tag reads: Hallmark Cards Inc. 200QS1871/C Western Publishing Company Inc./LITTLE LULU DOLL TOY. Her brown shoes and red socks are part of her body (not removeable).
Little Lulu Gift Boxes
This package of two gift boxes has no date with Western Publishing Company, Inc, copyright. It appears it came out for Christmas based on the images on the boxs. The boxes are 7 3/4 x 4 3/4 x 5 3/8 inches.
There were Little Lulu and Tubby playing cards by Western Publishing Company that are undated but likey came out around the time the other Hallmark Little Lulu items came out in the '70s. The cards are very small, about 1 3/4 x 2 1/2 inches.
Little Lulu Bracelet
This Hallmark bracelet is on a card that says "A Delightful Gift Or Party Prize". The card measures 5 1/2" x 4 1/4".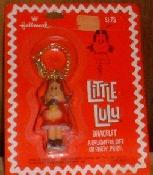 Little Lulu Pin
This Little Lulu pin by Hallmark is #100PF144-9. It is © Western Publishing Company, Inc. and is the 2 1/2" high figure of Little Lulu with an ice cream cone.

Little Lulu Necklace
This Little LuLu neckace from the 1970s is by Hallmark, © Western Publishing Company. Lulu is 2 1/4 inches tall.

Little Lulu Compac
This Little Lulu Plastic Compac is 2 1/4 inches round. It has a hard plastic figure of Little Lulu on the compac. The inside (top) has a mirror, and a plain bottom to the compac. It is marked on the back**Western Publication Corp** Hallmark**.


Page last updated 18 Feb 2005.
Email comments to dmmaki@MichelesWorld.net