Guinness Record
by R.W. Aristoquakes
---
Roland received the Guinness Record for having the most original frog drawings on the Internet. Here is what he wrote me about it:
"For your information: I send you a copy of the Guinness book document. The text means that I did put out more than 2000 own-painted frog pictures during the year 2000 in the Internet. In this way I have to send a very big 'Thank you Michele' to you too becouse you made all froggy-computer-work there so far in the States. I think your web site is getting well known more and more in the world. ' I like it' :-)"
Here is a picture of the document (you may click on it to get a larger version):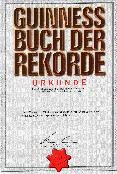 For more information about Roland, see the bottom of Frogs of Aristoquakes or see Roland's Frogsite.

Page last updated 01 Feb 2003.
Email comments to dmmaki@MichelesWorld.net