Still More Frogs From Friends XXXV
---
I received some frog pictures from Barbara in Paris, France. She described each picture. You may click on the picture for a larger version.
It is about a French postcard of a contortionist I found in Paris, the title of which is "Polias, homme grenouille" (Polias, frog man).
Picasso, La Grenouille (frog)
Benjamin Rabier (1864-1939), Le toboggan (circa 1925) : Benjamin Rabier is a very known French drawer and humorist. He was specialized in the creation of animals characters and has illustrated « les Fables de La Fontaine ». The Gédéon duck is one of his famous character and in all of its adventures, Gédéon appears with frogs.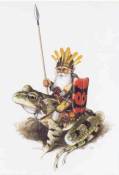 Attached you will find a postcard, bought in Paris, illustrated by Erlé Ferronnière, the title of which is "les lutins" (imps). This drawing is from the book: "Halloween - Sorcières, Lutins, Fantômes et autres Croquemitaines" (Halloween - Witches, Imps, Ghosts and others ogres) Published by "Avis de Tempête..." (Storm notice).
I bought both chromos in a specialized "paper exhibition" which takes place twice a year in Paris (very known). The lady who sold them was a German people with a huge collection of chromos.
4 old "bons points" (frogs and toads): I do not know if it is typically French and if it might exist in the US. These points are given at the Primary School, when a child is making a good job. The child has to gather 10 of these "small" points and will receive in return a big picture. This "procedure" is still put into practice.
On the back of the big toad bon point, it is written: "Paris, A. Jeandé, Libraire-Editeur, N° 14" Paris, A. Jeandé, publisher and bookseller). This is the number 14 in a series of animals.
---
---
Page last updated 22 Nov 2002.
Email comments to dmmaki@MichelesWorld.net
---