Still More Frogs From Friends XXX
---
I received some pictures of frogs from Didier.You may click on the pictures for a larger version.

"In Italian, it means: "Thank you for the frogs"
"Please find attached the scan of a phonecard recently issued in Belgium"
"Of course, she looks tired ... She has hopped all the way from Uruguay !
"Let's coast for a while..."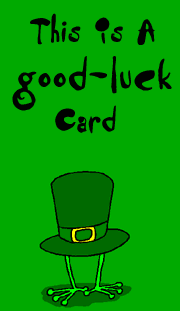 ---
---
Page last updated 22 Nov 2002.
Email comments to dmmaki@MichelesWorld.net
---